Piano Moving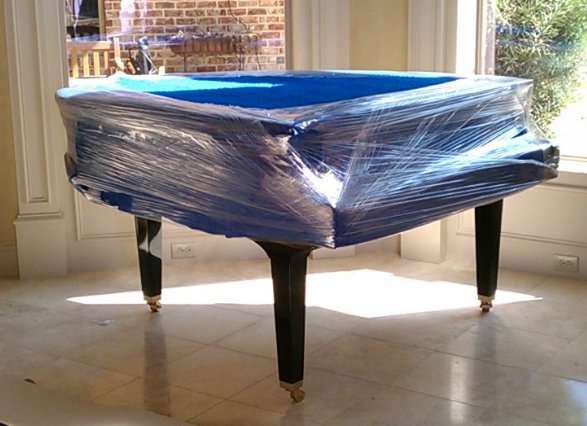 A piano is not a musical instrument – it is a craft masterpiece composed of a thousand perfectly tuned pieces. It's probably the biggest and most expensive furniture in your house, the heaviest and the most sensitive.
For factual reasons, you are well aware of the difficulties you encounter when moving a grand piano. It is not advisable to give up the help of movers and piano tuners because they have more than enough knowledge and equipment necessary to move the piano across the country. Once you know the details of moving the piano, you will be convinced to hire an expert at least for long distances, but moving short distance isn't that easy either. Your masterpiece might end up being damaged.
Our piano experts at the national or local level are very experienced in handling and transporting the musical instrument. In the Arlington area, we are the most popular piano shippers and warehouse services. Contact us to resolve any issues with piano moving equipment and to clarify how we use it in different situations to move pianos around your area. If you are looking for piano movers in Texas, DFW, Forth Worth, Dallas, Richardson, Carrollton, and Plano, we will cover them all for you. All you have to do is sit back and relax while we transport and deliver your grand piano while acting as a voice tuners for storing and moving long distance.
We understand that moving a piano can be a challenge – and we are proud to offer to move a piano as part of our services:
Our fully trained professional staff will assess your piano and both locations and create a tailored moving plan.
If the piano is to be placed in our storage, we provide climate-controlled storage.
When we move your piano, we move it ONLY – it is not crammed in the truck with other objects.
We provide special padding, hoists, cranes, and other equipment necessary for proper operation.
Piano Storage
If you want to keep your piano with us during the movement process, UsDirectMovers can make a seamless relocation from your current location to another. A climate-controlled warehouse is available to suit your need. Climate-control is essential to protect your piano from temperature fluctuations. Strong fluctuations in temperature and humidity can deform wood, keys, or ropes. If you keep your piano with us, you can be sure that it is in a clean, safe and temperature-controlled environment. To simplify piano storage, our team can pick up your instrument and transport it to our secure and monitored storage location when you are ready to complete your move, schedule delivery to your next location.
Experience Piano Movers
Our well-trained experienced staff will take all possible precautions before moving a piano. We plan the movement before even touching the instrument, and we measure it carefully to avoid any unforeseen obstacles on the way. This includes wrapping stairs and sharp angles. We understand that tuning and repairing pianos are expensive; we do not take chances!
We also have an insurance plan in place for the improbable event of an accident. Remember, however, that the art of moving means that we are ready for anything. Leave your precious cargo to UsDirectMovers.